Last week our 21-year-old daughter came home after 5 months on kibbutz learning Hebrew and looking after babies. While she was there she bought a bicycle to get herself around. After a couple of days back home she asked me if I could fix up her bicycle that has been sitting quietly unused for several years in the garden shed and help her to gain confidence riding on the road. After a bit of tinkering it is just about road worthy.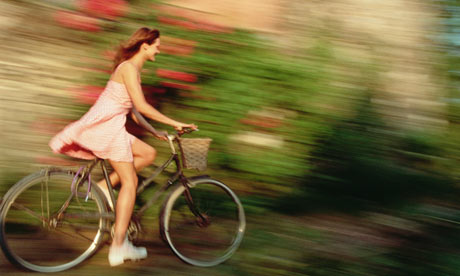 Going into the shed and taking out her long unused mountain bike brought back memories of when I was first off sick with depression in the early 2000s. Back then my bicycle stayed in the shed for a year. When I did eventually take it out I tottered round the block on the pavement and promptly put it back in the shed for another…I can't even remember how long.
While I have been able to fix her bike to a road - worthy standard, a couple of the gears are not quite right and click, and don't move as they should. I've taken it round the block a couple of times, accompanied by this clicking sound and with each attempt to change these gears I become more and more irritated.
Irritability is a defining feature of Bi Polar Disorder, and it is one of the most difficult for family and friends to live with. With irritability the shift in mood is so abrupt that with all the insight, all the strategies and management techniques, it still bites; and that in turn fuels guilt, which in turn fuels…well, more of the same – and so the cycle continues.
In the meantime, I trust that I will be patient and supportive as I help my daughter to grow in confidence as she starts to take her place in the saddle on the road.
Click, Click, Click
Click, click, click; rugged tyres trundle over roots.
Debris in my spokes elbows out the equilibrium
That soothed my magnetic mind.
Thoughts trip and my synapses slip
As irritable as twigs.
A sullen sky descends, oblivious.
The wheels, casual, whir,whir, whir
While the trembling swell of tears, dry as stones,
Crumble on my gravelly cheeks,
As all contentment skidding, skidding, skidding on the rubble in my brain
And into the desperate ditch of sullen despair.
Yours Truly (1964 – )